Domafox here again with an update of what is going on with me so far.
-College-
Well last week in First Aid I missed my final written test by 4 points, however I have a second chance to retake the test on Tuesday this week which is the same one I took on Wednesday. Tomorrow I have to turn in my final assignment for Life Drawing and then I will be able to get all of my stuff back that I worked on so I can post them to my art site and show everyone here what I have been working on that made me improve in my arts this year.
-Family-
As we all know Christmas Break is coming soon and which means its vacation time again and for my family its a long two day trip from Idaho to Arizona and we begin our trip on Saturday and we won't be back till New Years day because we have a side trip to make in the L.A., CA area to see some members of the family again since the funeral. At the same time I hope I get the chance to spend a day with Firewolf when I get there since we don't hang out often enough in RL.
-Location & Home-
Well the snow has been getting very below freezing point and its just too unbearable to be outside a whole lot. However this past week I saw something funny in my campus parking lot which I have in the image here.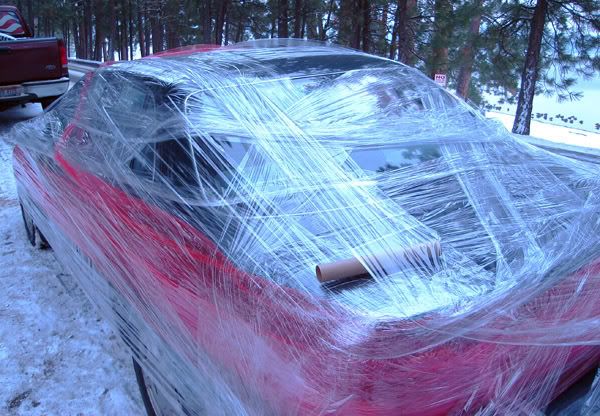 Someone just completely saran wrapped an entire car and I was amused by this event.
Well that about wraps up this report and I will have to make my New Years report a bit earlier so I can post it when I get net access while away on vacation. That is all for now, Domafox signing out.